This Hispanic Heritage Month, we look at the most recent Census and data to highlight the importance of Hispanics in the United States.
For those wondering why Hispanic Heritage Month starts mid-month rather than on the first of September, the Month starts on September 15, coinciding with the independence days of several Latin American countries. This includes five Central American countries' independence days: Guatemala, Honduras, El Salvador, Nicaragua, and Costa Rica. It also comes at the same time as the commemoration of the 'grito de Dolores' made in the early hours on September 16, 1810, starting the Mexican War of Independence. These countries also figure significantly in the ancestry of many Hispanic Americans: Of the 62.1 million Hispanics in the United States, almost 71%, or 42.9 million of them, have ancestry from these 6 countries.
Today, Hispanics form the largest ethnic group in the United States. With more than 62 million Hispanics recorded in the 2020 Census, they make up almost 19% of the total U.S. population. Moreover, Hispanic households now collectively earn more than ever—to the sum of more than $1.2 trillion—and paid almost $309 billion in taxes in 2019 alone. Critically for the economy, Hispanics in the United States fill workforce gaps in labor-short industries such as agriculture, hospitality, construction, and healthcare. In the wake of the coronavirus pandemic, these industries are now more important than ever to U.S. economic vitality.
Although now eclipsed by Asians as the fastest growing group, Hispanics remain a fast-growing population. Between 2010 and 2020, the Hispanic population in the United States increased by 23.0%, compared to just 7% growth for the U.S. population nationwide. This represents an increase of 11.6 million, from the 50.5 million Hispanics in 2010. The size of this increase also means that approximately half of all population growth in the United States since 2010 can be attributed to Hispanics, both U.S.-born and immigrant.
The continued growth of the Hispanic population has also come in tandem with increasing diversity among Hispanics in terms of geographic distribution, nativity, and voting patterns.
Geography
No longer geographically concentrated strictly in border regions or in big cities, Hispanics today increasingly live all over the country.
Some of the states with the fastest increases in their Hispanic populations are those that until recently had very few Hispanic residents, including South Dakota, Vermont, and Louisiana. These states all saw their Hispanic populations grow by more than 67% between 2010 and 2020. In North Dakota, the Hispanic population more than doubled over the last decade, increasing by 148.1% from 13,500 to 33,400.
Ancestry
Contrary to popular belief, most of the growth among Hispanics has been among those born in the United States, rather than from immigration. Between 2010 and 2019, the latest year for which we have nativity data, U.S.-born Hispanics accounted for more than 90% of growth in the Hispanic population. The number of U.S.-born Hispanics grew by almost 9 million, or by 27.5%, from 31.9 million to 40.7 million in 2019.
Hispanic immigrants also increasingly hail from a wider range of Latin American countries than has been the case in past decades, further adding to the diversity seen among U.S. Hispanics. Today, immigrants from Central America, Cuba and the Dominican Republic make up increasing shares of the Hispanic population in the United States, with the share of immigrants from Mexico gradually decreasing as a whole.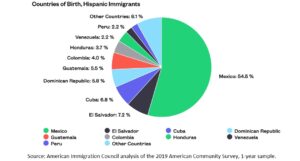 Voting Patterns
Looking forward to the midterm elections later this year, the data show that Hispanics now make up considerable shares of the electorate. Nationwide, there are approximately 30 million Hispanic eligible voters, a 40% increase from 21.5 million in 2010. Furthermore, analysis from UCLA found that each year, there are an additional 1 million Hispanic Americans that reach voting age. At a state level, Hispanics now account for more than 1 in 5 eligible voters in several states, including New Mexico, Texas, California, Arizona, Florida, and Nevada.
However, Hispanic voters, like the Hispanic population, are also increasingly diverse in their political viewpoints. Although Hispanic voters overwhelmingly continued to back Democratic candidates nationwide in 2020, there are signs that the Hispanic electorate is no longer—and perhaps never was—a monolith. Pundits and analysts have pointed to different reasons why Hispanic voters should no longer be considered a 'safe' voting bloc for any particular party, from crime, to immigration, to the economy and other pocketbook issues.
This diversity in voting intentions mirrors the myriad ancestries and histories of the tens of millions of Hispanics in the United States. While it's unclear how Hispanic voters will end up voting come this November, what is clear is that Hispanics have already made and will continue to make outsize contributions to the United States, socially, economically, and politically.